Pneumatic Training equipment
Pneumatic - Completed
Picture may or may not be the one supplied, please call or email for the exact picture and details of trainer based on your needs. We have many different options available on our standard trainer to meet your budget. If you are not a school and would like an instructor to train your students with the trainer you buy, that can be arranged. (Email for Details)
General description: We use a variety of Mfg. products, such as Parker, SMC, PHD, CKD, ARO, and Bimba to mention a few. But we are not tied down to any one Mfg. Our Pneumatic trainer can simulate a multitude of circuits while giving access to built-in troubleshooting features. Trainers can come one-sided or double-sided. One side can accommodate up to 4 students or 8 students for 2 sides.
Our standard unit comes: Completely tested and assembled and includes these standard components:
Electrical Control Box includes all switches, relays, and 24 volt power supply
Rodless cylinder
2 pcs. Double Rod cylinder
2 pcs. Different sizes and shapes of Double acting cylinders
1 pc. Cylinder with simulated load
1 pc Spring return cylinder
Air motor
Linear slide cylinder
Finger grip cylinder
Rotary Actuator
2 air limit switches
Large linear 2 post guided cylinder with brake
Swing cylinder
Flow meter with flow alert
Standard flow meter
2-way solenoid valve
2 manually operated directional valves
3 bank of 24 volt 3 position solenoid operated Air valve
Air piloted Directional Valve
Foot operated 4-way valve
Double Piloted operated check valve
Lockout valve
Pressure switch
Filter / regulator / Lubricator
Air operated Ball valve
Vacuum generator
2pcs. Receiver tanks
Shock absorber
2 air distribution porting blocks
All fittings and 1/4:" tubing/ quick disconnects
2 electrical limit switches
Not shown in picture are Quick exhausts, flow controls, needle valves. Check valves
Base price $15,000 for single side $29,000 for double sided
Pneumatic - Customer Builds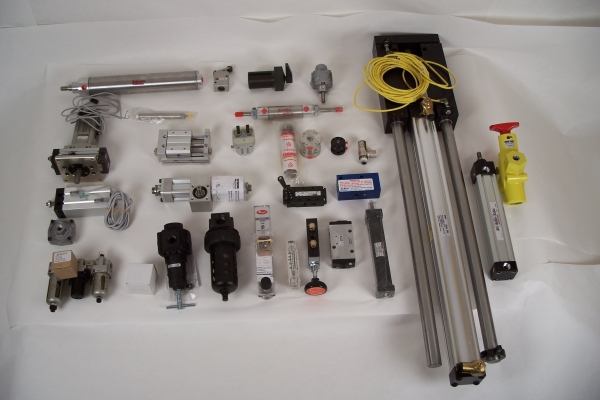 Customer can buy the individual components and build their own Pneumatic trainers. This allows the school to purchase all the necessary components (fittings included) and have students mount them using their imagination and resources. The result is a considerable cost savings to the customer. Check out the components included. $6,345 If interested we can send a picture of the components with part Numbers, because the value speaks for itself.
Rodless cylinder
2 pcs. Double Rod cylinder
2 pcs. Different sizes and shapes of Double acting cylinders
1 pc. Cylinder with simulated load
1 pc Spring return cylinder
Air motor
Linear slide cylinder
Finger grip cylinder
Rotary Actuator
2 air limit switches
Large linear 2 post guided cylinder with brake
Swing cylinder
Flow meter with flow alert
Standard flow meter
2 way solenoid valve
2 manually operated directional valves
3 bank solenoid operated Air valve
Air piloted Directional Valve
Foot operated 4 way valve
Double Piloted operated check valve
Lockout valve
Pressure switch
Filter / regulator / Lubricator
Air operated Ball valve
Vacuum generator
2pcs. Receiver tanks
Shock absorber
2 air distribution porting blocks
All fittings and 1/4:" tubing/ quick disconnects